<!!------좌측메뉴 끝---!!>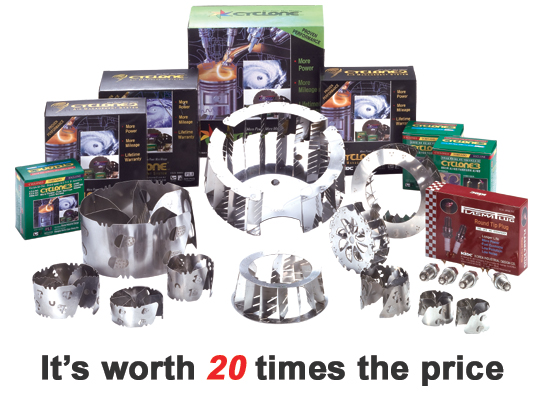 Improved mileage

With CYCLONE you travel further on less fuel.

CYCLONE's swirling effect makes fuel particles finer and creates a neer-complete, rapid burn, increasing engine power and decreasing knocking and pinging.

A Product of Incalculable Value

The CYCLONE air flow device is one of those rare products whose whole is really greater than the sum of its parts. Overall value can only be measured by the total of its contribution to the ovner, driver society and a cleaner environment.

Emission Reduction

CYCLONE significantly reduces air pollution

THe swirling air/fuel mixture, when forced into the combustion chamber by CYCLONE, achieves up to 85% combustion, whereas conventonal engines only achieve approximately 15%

Prolongs Life and Function fo Converters

A 3-way catalyst, for reducing pollution by unleaded cars, loses at least 5% of engine power though exhaust resistance. CYCLONE eliminates this, with its cleansing ability.

Boosts Power Output

CYCLONE minimizes the restriction of air flow gathers fuel to the center of the stream, then rapidly moves it to the combustion chamber, which prevents it from adhering to the wall of the intake system. The swirling, fast-burn, near-compleate combustion increases power output and decreases knocking.

Elimination of Injection Problem

When the fuel is not totally gasified, it can result in cargon deposits and many other harmful effects. Blow-by gas adhering to the throttle valves can also cause engine stall and in some cases, complete engine stoppage. CYCLONE;'s carbon cleaning effect virtually eliminates all these problems.

Decreased Engine Noise

As the fuel combusts, CYCLONE delivers the same power from each cylinder, which reduces vibration, as well as piston slaps and scuffs, and leads to stable engine performance. This uniform force reduces noise and prevents abnormal abrasion.

Effect on car equippen with automatic transmissions

CYCLONE increases the overall acceleration power and mieage, as shown in the increase from 7.5Km/1 to 9.5Km/1 on a(1.5L) leMans TBI thes car.

Available in a Wide-Range of Models

CYCLONE is available in a wide-range of models, to fit passenger cars, light and heavy-duty trucks, buses, marine vessels, and heavy equipment. CYCLONE works equally well with gasoline, diesel, natural gas or propane powered vehicles.

Feul economy & Pollution Test Result by laboratory Recoginzed By E.P.A (1994)
Fuel
Economy

Nisan Maxima (MPI,Auto)

24%

90~100Km/h

Oldsmobile (MPI, Auto)

22%

Chev, Camaro (Carb, Auto)

7.6%

Pollution

CITY MODE

HC 105%

CO 34%

NOx 15%

Ford Taurus

HIGHWAY MODE

84%

23%

48%

'93(EFI)[AUTO]

SADDLEBACK COLLEGE
VEHICLE

BEFORE / NO DEVICE

AFTER / WITH CYCLONE

HORSEPOWER GAIN / LOSS

1996 PONTIAC
3.4L, V-6
24 VALVE TPI

90HP @70MPH
WOT

+12 HORSEPOWER AT THE WHEELS(UP to 20%)

1991 HONDA
1.5L 4CYL
16VALVE, TBI

50HP @70MPH
WOT

70HP @70MPH
WOT

+20 HORSEPOWER AT THE WHEELS(UP to 40%)

SADDLEBACK COLLEGE 2
VEHICLE

BEFORE / NO DEVICE

AFTER / WITH CYCLONE

HORSEPOWER GAIN / LOSS

1994 GMC SURBURBAN 5.7L, V8, TBI

140HP @70MPH
WOT

+20 HORSEPOWER AT THE WHEELS(UP to 20%)

1998 DODGE IMTERPID 2.5 V6

1st TEST : 95 HP
2nd TEST : 100 HP

1st TEST : 135 HP
2nd TEST : 140 HP

+40 HORSEPOWER AT THE WHEELS(UP to 40%)

SUMMARY OF ECONOMY ON ROAD TEST
| | | | |
| --- | --- | --- | --- |
| - | FE BASELINE AV. | FE CYCLONE AV. | % CHANGE |
| NISSAN MAXIMA | 25.342 MPG | 31.445 MPG | 24 % |
| OLDSMOBILE 98 | 27.528 MPG | 33.637 MPG | 22 % |
| CHEVROLET CAMARO | 16.35 MPG | 17.6 MPG | 7.60 % |

Results of Engine DYNO Test, 1987
BY : Korea National Industral Testing Institute
ITEM : Gasoline and Diesel Engines
RESULTS :
(a) 20% reduction of CO gas emissions while iding
(b) 7%~8% increase in power output with 50% load

Results of Interior Noise Test, 1991
BY : Samhwa Environmental Co.
ITEM : Diesel Engine
RESULTS :
(a) 3-5dB decrease while iding
(b) 80% more stable at 80Km/h

National Industrial Technology Institute Engine DYNAMO Test, 1991
In state of 25% open Throttle valve(2,000~3,000 rpm)
- Power increased by 10%
- Fuel Saving 13%

20TH International Exhibition of Inventions New-Techniques & Products of Geneva, 1992
-> bronze Prize Awarded
Opel Vectra 2.0k MPI. Autobahn Road Test Fuel Saving 20%